"Follow the child, but follow the child as his leader."
Dr. Maria Montessori

Click here to add a short description
Children's Tribe is a diverse, educational community built on the Montessori philosophy which fosters curiosity, creativity, and critical thinking in its students. Our campus sits on 13 acres, and is home to a variety of farm animals. These animals are part of the farm curriculum. Students get hands-on horticulture in our on- site greenhouse and garden areas. Our student body is made up of preschool through eight grade. Our elementary and adolescent students participate in monthly community services. At Children's Tribe, guides follow the student's individual needs to achieve personal academic excellence and to become life-long learners who respect themselves others and their environment.

15416 US Highway 67
Godfrey, IL 62035

Phone: 618-466-0399
Fax: 618-466-0577

Questions about the Montessori Method

Are Montessori classrooms a free-for-all?
Children are given guidance from their teacher and allowed to choose an activity. Self-discipline is encouraged and students can explore in their own ways.
Do Montessori students develop socially as well as other children?
The Montessori classroom encourages social development. The teacher shows respect for the children, and children model that behavior. Children can work alone or together, and older students often help younger ones.
I have seen only Montessori preschools. Are there Montessori schools for older children as well?
Dr. Montessori first developed her educational approach while working with a preschool population. She gradually extended her approach to children and youth of all ages. Today, some Montessori schools provide all levels of learning, from infant and toddler through the secondary level. Others offer only certain levels.
If children work at their own pace, don't they fall behind?
Although students are free to work at their own pace, they're not going it alone. The Montessori teacher closely observes each child and provides materials and activities that advance his/her learning by building on skills and knowledge already gained. This gentle guidance helps him/her master the challenge at hand-and protects hi from moving on before he's ready, which is what actually causes children to "fall behind".
How well do Montessori students do compared to students in non-Montessori schools?

There is a small but growing body of well-designed research comparing Montessori students to those in traditional schools. These suggest that in academic subjects, Montessori students perform as well as or better than their non-Montessori peers.
*Information obtained from American Montessori Society (www.amshq.org)

A Parent's Perspective on a Montessori classroom


*Thanks to www.321fastdraw.com for providing this video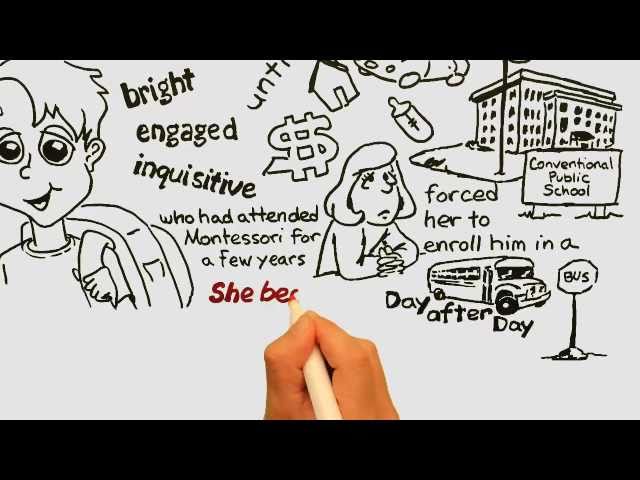 Twenty-First Century Montessori
Success can be defined in many different ways, but it has changed dramatically in recent years. Successful individuals are no longer relegated to rows of desks or anchored in cluttered offices. Modern Montessori is perfectly suited to build the successful individual of the future by encouraging initiative, enthusiasm, and creativity.




Montessori education has been shown to strongly support the development of "executive functioning." This extremely valuable capability of the brain fosters skills such as adaptability, focus and creativity; skills that are critical to success in our 21st century world. Traditional approaches to education simply do not foster this kind of thinking.




Not surprisingly, some of the most innovative and successful individuals over the last hundred years have been Montessori graduates. Recent examples include: Jim Wales, creator of Wikipedia; Jeff Bezos, Amazon.com founder; singer and entrepreneur Sean Combs (P Diddy); and Larry Page and Sergei Brin, the founders of Google. All of these individuals (and many others) have used their executive functioning abilities to see the world in a new or different way, and achieved great success as a result.




*Information obtained from mariamontessori.com


0

/